DISPLAY REPAIRS & SERVICE
Upgrade or Refurbish! We help our customers with all their industrial electronics repair requirements. Our company repairs and refurbishes a large range of industrial electronics, using the very latest technology. Monitech's specialist electronic technicians can repair a variety of LCD, LED and touch screen displays, monitors and HMI (Human Machine Interface) units. We are industry qualified to service and repair display units including CRT's, LCD's, LED's, Plasma and TFT's.
Screen Repairs and Service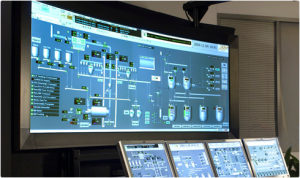 A common source of industrial display and touch screen failure occurs by excess usage and wear. Many of these units are obsolete or expensive to replace. We are usually able to service and repair new overlays and membranes that function identically to the originals and are equally as robust.
We are an authorised repairer to a variety of display manufacturers from Mitsubishi, Siemens, Toshiba to specialist manufacturers such as Fanuc diplays, Allen Bradley, ABB, Heidenhain and Fagor.